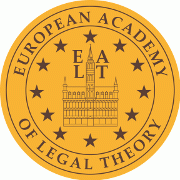 Applications are now open for the
LLM in Legal Theory
at the Goethe University of Frankfurt/Main and other universities of the European Academy of Legal Theory.
The programme offers a one-year (60 ECTS) advanced Master's Course in Legal Theory (LL.M.; language of instruction: English). Participants will study at one or more Academy partner universities (mobility phases and multiple degree tracks).The programme re-establishes the former internationally renowned programme in Brussels by the European Academy of Legal Theory, sponsored by the Erasmus Lifelong Learning Programme, in Frankfurt/Main on a broad institutional basis. The programme lays focus on the globalisation and the connected structural transformation of normativity in law. By this process, national law is getting supra- and international, last not least by the growing influence of transnational law making by non-state actors.
The programme aims at safeguarding European traditions in global perspective; developing legal scholarship and jurisprudence as a science; developing jurisprudence also as applied legal theory so as to enable the participants in the programme to solve system conflicts that appear nowadays in a regular manner. This is especially reflected by pluralistic theories of law including a systemtheoretical approach to law.
The new Westend Campus of the Goethe University is not only impressive in various respects and belongs internationally to the very best. By recent academic developments in the national level, it is now considered to be – in the national as well as in the European level - the center of reflection on normativity based not only on a large law faculty and a philosophy and social science department dealing prominently with practical philosophy but also on the Max-Planck-Institute for European Legal History and the Cluster of Excellence "The Formation of Normative Orders" that integrates the Frankfurt social sciences (anthropology, sociology and philosophy) focusing on normativity.
More information on the LLM may be found here.