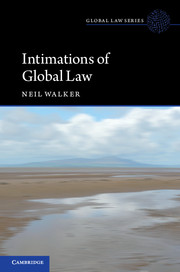 A new Global Law Series has been announced at Cambridge:
T

he series provides unique perspectives on the way globalisation is radically altering the study, discipline and practice of law. Featuring innovative books in this growing field, the series explores those bodies of law which are becoming global in their application, and the newly emerging interdependency and interaction of different legal systems. It covers all major branches of the law and includes work on legal theory, history and the methodology of legal practice and jurisprudence under conditions of globalisation. Offering a major platform on global law, these books provide essential reading for students and scholars of comparative, international and transnational law.
A strain of law reaching beyond any bounded international or transnational remit to assert a global jurisdiction has recently acquired a new prominence. Intimations of Global Law detects this strain in structures of international law claiming a planetary scope independent of state consent, in new threads of global constitutional law, administrative law and human rights, and in revived notions of ius gentium and the global rule of law. It is also visible in the legal pursuit of functionally differentiated global public goods, general conflict rules, norms of 'legal pluralism' and new legal hybrids such as the global law of peace and humanity law. The coming of global law affects how law manifests itself in a global age and alters the shape of our legal-ethical horizons. Global law presents a diverse, unsettled and sometimes conflicted legal category, and one which challenges our very understanding of the rudiments of legal authority.